Note: To those of my awesome readers who are morally adverse to reading the Harry Potter books, please understand that I absolutely respect your decision and your caution in reading choices. I adore the world of Harry Potter, but more than that I admire a reader's commitment to God-honoring reading material. :)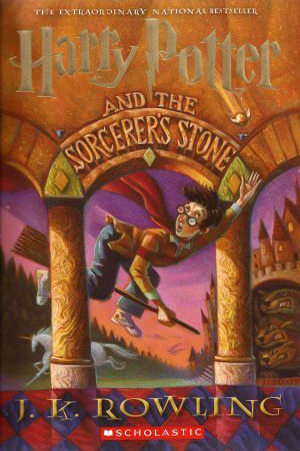 I can't really comprehend our young adult culture before
Harry Potter
became a thing. For almost as long as I can remember, Walmart's scanning gates have advertised late
Harry Potter
installments, Jim Dale has droned on my CD player, and J. K. Rowling has been unofficially dubbed as the ultimate successful modern author. The complex world building of the movies and last few books or iconic images like the scar and Emma Watson have become Harry Potter.
But I enjoyed going back to the very beginning and re-discovering
Harry Potter
's story before he became a household name.
awww, they were so little x)
There's a lot of worth here. Rowling rocks the art of keeping a reader interested. Her vocabulary doesn't exactly shine, nor are her plot twists always shockers(excluding that last one, which genuinely impressed me), but she keeps the pages turning until far past my bedtime. :)
With all the importance placed on 3D characters, unpredictable turns, and smooth writing, sometimes a good, entertaining story can be under-appreciated. And that's what I like so much about Harry Potter. It's just a really, really entertaining, fun, clever, and sometimes heart-wrenching story that will never grow old.
~~~
Have you read Harry Potter? What do you think? Who's your favorite Harry Potter character?
"When I'm 80 years old and sitting in my rocking chair, I'll be reading Harry Potter. And my family will say to me, 'After all this time?' And I will say, 'Always'"
~Alan Rickman