Gahhhh, this book. I chose it for the Hardcore Re-reading Challenge because it was short, easy, and I wanted to like it more than I had the first time. And I did!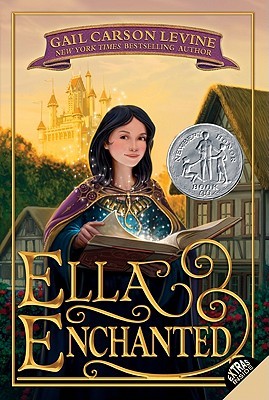 So pretty, isn't it?

Ella was cursed to obedience at birth by a foolish fairy, Lucinda. To cope with the compulsory obedience, Ella adopts an independent(and sometimes spiteful) spirit. This leads to more sass and revenge than I prefer in my heroines, but it was natural and not too over-the-top. (If you want to see my ideal Cinderella, watch the 2015 version.)
Besides her curse, Ella's mother has died, and her father... well, he's like Mr. Wickham stripped of his surface charm. Scary, right?
This leaves her with two people she can trust--Molly(her cook and fairy godmother) and Char(the prince).
Following the death of her mother, the father seeks a new wife. He settles on a greedy widow with two daughters--Hattie and Olive. They're absolutely awful. Eventually they become the stepmother and stepsister figures of the story.
But the prince is great. He's no cardboard Prince Charming; he's like a real person and once he even revealed his flaws to Ella.
The conflict comes to a peak when he proposes after Ella has realized that marrying him would be dangerous. An enemy of the kingdom could command her to kill the prince and she'd have to do it.
Anyways, the characters act believably, the writing flows smoothly, and the romance progresses enchantingly. It's a beautiful little novel and well worth the re-read.
Favorite Character: Ella
Age Recommendation: 8+
Rating: 5 stars